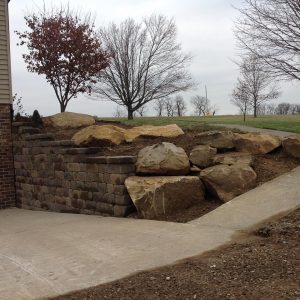 Typically, winter is the time of year when we spend the least amount of time thinking about our lawns and landscapes. But, this is flawed thinking! Winter is a great time to perform any landscape task, such as:
Our professional landscape crews stay busy providing these services year-round. Consistent seasonal maintenance will help keep your yard in pristine condition all year long and our team is here to help.
Winter Lawn Care
If you procrastinated in the fall, give us a call for leaf removal or a fall cleanup job. Or, get a jump on spring and have your landscape looking its best with a fresh mulch installation and edging job. Early winter is a great time to mulch after the leaves are down and removed. You can enjoy the mulch all winter and be looking good for spring! Contact us today for a free estimate.
Winter Lawn Treatment & Winter Lawn Fertilization
The late fall and winter season is also an important time for proper turfgrass fertilization. Be sure you are getting your turf the proper nutrients at the proper times. Click here to learn more about our winter fertilization or limestone application!
Schedule Winter Landscaping Services
Leave the heavy lifting to Smith Landscaping! Our team provides winter landscaping services and lawn treatments in the winter months throughout Northeast Ohio including Salem, Alliance, Canfield, Minerva, Sebring, Beloit, Damascus, and surrounding areas. Contact us today!
Schedule your off season landscape service